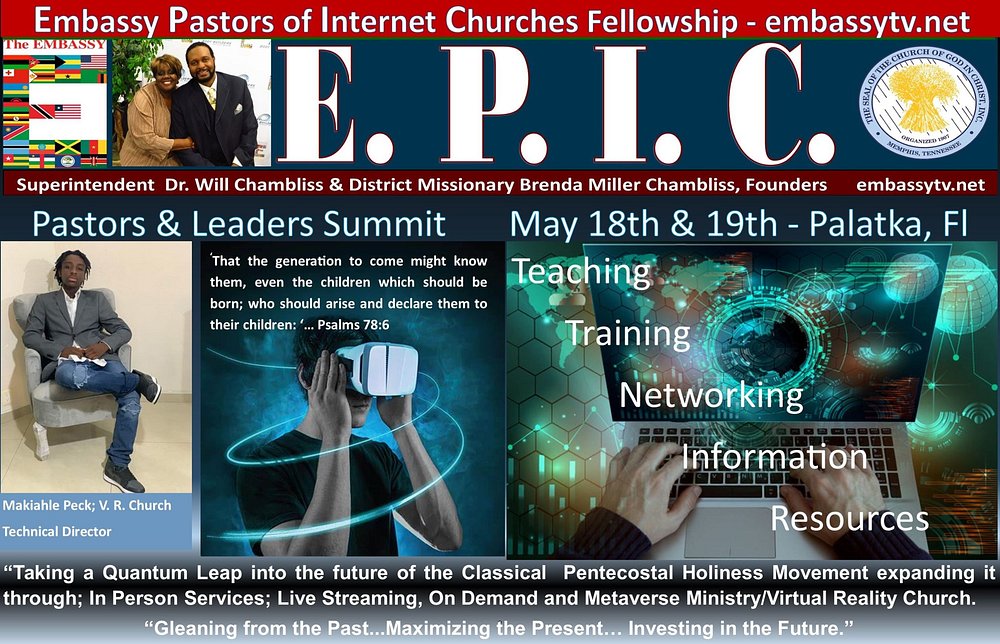 Make plans to attend the official Membership Drive of E.P.I.C., Embassy Pastors of Internet Churches Fellowship (https://embassytv.net/epic-church-fellowship) at E.P.I.C. Pastors & Leaders Summit May 19 and 19, 2023 at the Ravine Gardens, 1600 Twigg Street in Palatka, Fl. with you host and the Founders of E.P.I.C., Dr. Will Chambliss and Dr Brenda Miller-Chambliss.
They are the Pastors of Embassy Church of God in Christ (

embassytv

.net) Palatka, Fl; Superintendent and District Missionary-Designate of the Embassy District, founders of Embassy Media Group PR, & Marketing; Producers of Body Builders Television Network (bbtvn.com) now in it's 23rd year; founders Step By Step Women's Grief Ministry for the Survivors of Victims of Homicides, Suicide and Drug Overdose (

stepbystepwgm

.com).
Our goal;
1. Glean from the Past: To capture as much history as we can from the remaining Silent Generation and Baby Boomers.
2. Maximize the Present: To connect remaining Silent Generation and Baby Boomers with Generation X and Millennial Pastors, especially Post Covid and assist them in regrouping and rebranding their ministries and use today's technology and resources to expand their existing ministries.
3. Invest in the Future: Invest into areas that will help your existing and future ministry like annual membership in E.P.I.C. Embassy Pastors of Internet Churches. Benefits of Membership, include:
a. Information
b. Resources
c. Networking
d. Media Training
E.P.I.C. will also explore using cutting edge technology like Virtual Reality to establish a Metaverse Ministry. We will work to establish a platform for future leaders of the church, the
I Gen and Gen Z (born 1997 - 2012) and the Alpha Generation (born 2012 to 2025).
E. P. I. C. will assist in helping to provide them a solid foundation of Classical Pentecostal Holiness and leaving a record as a testimonial and legacy in print and digital that will remain when many of us have moved to heaven.
What Generation are you? What do you know about the Classical Pentecostal Holiness Church movement? Are you willing to be used in God's end time last day army to see souls saved and prepare for a mighty Holy Ghost Outpouring Revival? Are you ready to see and experience, miracles. Healing, signs and wonders? If so, you need to request the registration package for the E.P.I.C. Pastors and Leaders Summit May 18th and 19th in Palatka, Fl.
Simply click here to request the PDF for E.P.I.C. Pastors & Leaders manual for 2023.